The Stories We Tell
Sep 26, 2019
Paul Richardson
Imagine it is Christmas morning. You wake to the sounds of a string orchestra, wafting up the stairs, soon joined by the lyrical sound of a flute, with a sound not unlike birdsong.
This is exactly what Cosima Wagner, the wife of Richard Wagner, experienced on December 25, 1870, which was also the day after her 33rd birthday, and a year and a half after the birth of the couple's child, Siegfried, whom the couple nicknamed Fidi. Richard staged the performance at their villa in Tribschen (now part of Lucerne), Switzerland, and it featured some of the finest musicians of their day.
The original title of the piece, never meant for public consumption, was "Triebschen Idyll with Fidi's birdsong and the orange sunrise, as symphonic birthday greeting." Quite a mouthful.
Today it is simply known as "Siegfried Idyll," and some of it was incorporated into Wagner's famous Siegfried opera, which debuted in 1876.
Behind every musical work there is a story, often entangled with the life and challenges of the composer. And yet always a musical work tells a story of its own. Or helps advance the course of another story.
This centrality of music to storytelling, and the stories that lie behind a piece of music, is a theme that winds through all of the works being featured – along with Wagner's "Seigfried Idyll" – at this season's first concert in the Marleen Forkas Connoisseur Concert Series, Movies and Idylls. Among these are Ottorino Respighi's inspiring interpretation of three Botticelli paintings, Trittico Botticelliano, Samuel Barber's richly textured Knoxville, Summer of 1915, and music from three films scored by Aaron Copland: The City, Our Town and Of Mice and Men.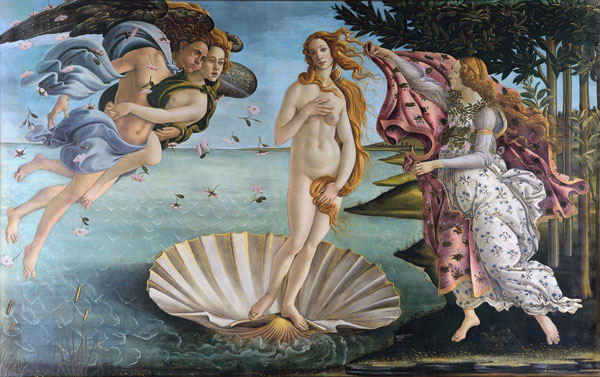 Botticelli's Birth of Venus, one of the three masterpieces
interpreted in the piece by Respighi
It promises to be a spellbinding evening of musical storytelling featuring The Symphonia, conducted by Alastair Willis, and featuring soprano Robyn Marie Lamp. And, since it falls on December 8, it is perfectly timed to get your holiday season started off right.