Partners in the Arts: Jane Zager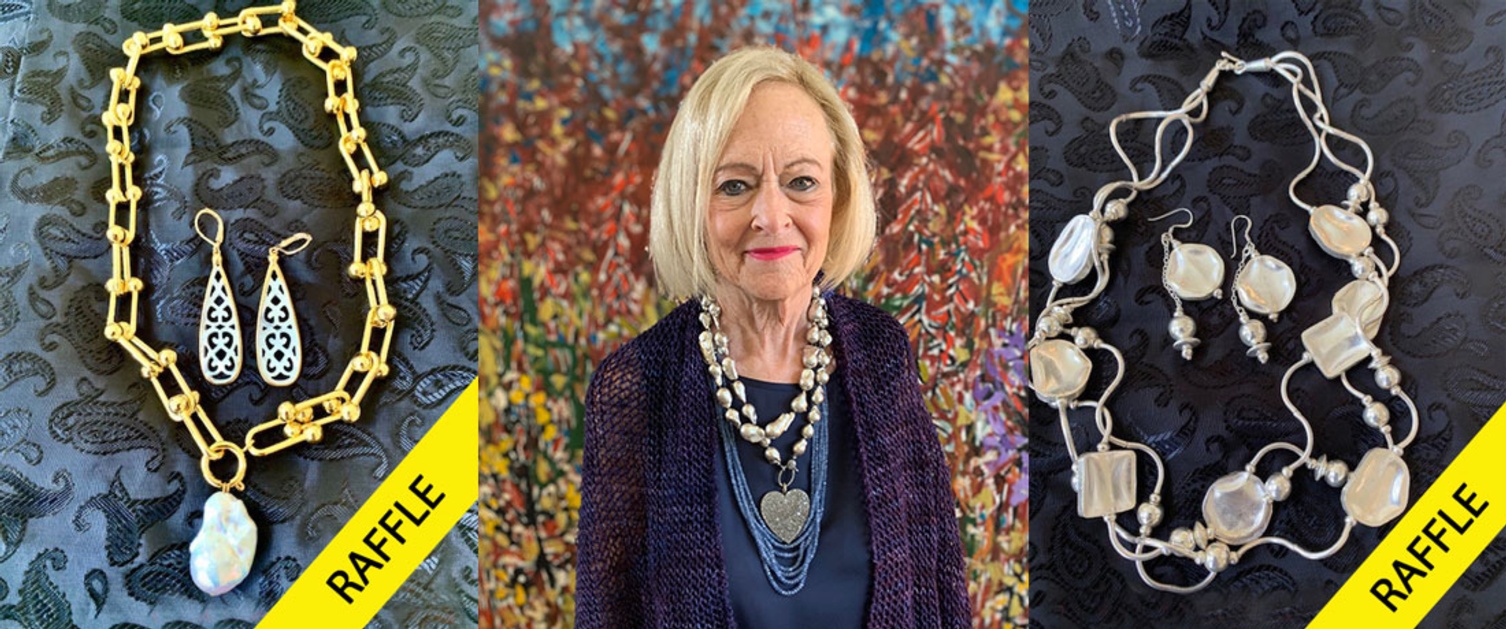 For May, The Symphonia Partners in the Arts features the artist Jane Zager. A lapidary artist and designer, Zager creates exclusive jewelry that combines precious metals with gems from around the world. Her ability to pair unusual gemstones with her chic and timeless jewelry designs is intriguing to jewelry collectors who are constantly looking for something new.
The Partners in the Arts series highlights the work of local artists and businesses with partial proceeds benefitting The Symphonia.
THE FOLLOWING ITEMS ARE AVAILABLE FOR PURCHASE OR RAFFLE,
WITH PROCEEDS TO BENEFIT THE SYMPHONIA
TOP LEFT RAFFLE ITEMS:
Thai Silver Three Strands Necklace (19-inch) Set with Earrings ($325 Value) and Gold Over Silver Necklace (19-inch)
Set with Earrings ($300 Value) - One Entry for $10 or 3 for $25
ALL OTHERS IN ORDER OF APPEARANCE:
Baroque Pearl and Silver Necklace (19-inch) - $410
Large Baroque Grey Pearls with Ruby and Diamond Pendant - $520
Italian Murano Handmade Necklace (19-inch) - $295
Large Diamond Heart Necklace (19-inch) - $680
Ruby and Diamond Solid Silver Bracelet - $460
Smokey Quartz and Sterling Necklace (19-inch) - $475
Thai Silver Three Strand Necklace (19-inch) - $250
Thai Sterling Silver Handmade Necklace (19-inch) - $625
---
About Jane Zager
A jewelry designer for the past 20 years, Zager's original pieces are made of Italian Murano glass, semi-precious stones, and freshwater pearls, which are her passion. Over time, she has added diamonds and other gemstones to her work.
Zager spends much time in Southeast Asia, where she acquires unique freshwater and baroque pearls. She purchases these pearls, semi-precious stones, and diamonds in Thailand, Vietnam, China, and India. These origins make her jewelry unique, as the stones are hand-picked. Zager works with the Hill Tribes of Thailand to create pure silver necklaces and earrings. Some are one-of-a-kind pieces.
Zager's work is shown at jewelry events and charity auctions throughout the country. Her pieces are unique and beautiful – a perfect fit with The Symphonia. "I have enjoyed working with The Symphonia," Zager says, "and look forward to a continuing relationship."