Kinan Azmeh
Clarinetist and Composer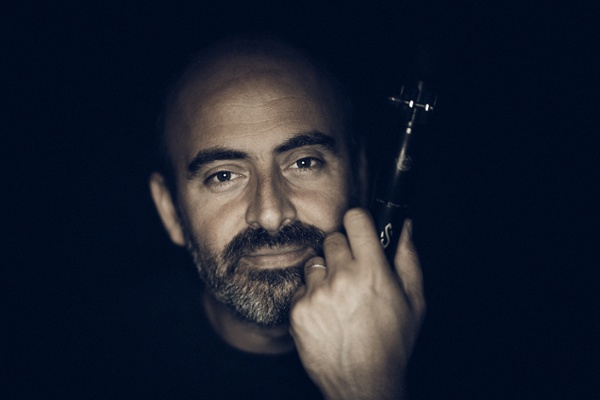 Hailed as "intensely soulful" and a "virtuoso" by The New York Times and "spellbinding" by The New Yorker, Winner of Opus Klassik award in 2019 clarinetist and composer Kinan Azmeh has gained international recognition for what the CBC has called his "incredibly rich sound" and his distinctive compositional voice across diverse musical genres.
Originally from Damascus, Syria, Kinan Azmeh brings his music to all corners of the world as a soloist, composer and improviser. Notable appearances include the Opera Bastille, Paris; Tchaikovsky Grand Hall, Moscow; Carnegie Hall and the UN General Assembly, New York; the Royal Albert Hall, London; Teatro Colon, Buenos Aires; Philharmonie, Berlin; the Library of Congress, the Kennedy Center, Washington DC; the Mozarteum, Salzburg, Hamburg's Elbphilharmonie; and in his native Syria at the opening concert of the Damascus Opera House.
He has appeared as a soloist with the New York Philharmonic, the Seattle Symphony Orchestra, the Bavarian Radio Orchestra, the Dusseldorf Symphony, the West-Eastern Divan Orchestra, the Qatar Philharmonic and the Syrian Symphony Orchestra among others, and has shared the stage with such musical luminaries as Yo-Yo Ma, Daniel Barenboim, Marcel Khalife, John McLaughlin, Francois Rabbath Aynur and Jivan Gasparian.
Kinan's compositions include several works for solo, chamber, and orchestral music, as well as music for film, live illustration, and electronics. His resent works were commissioned by The New York Philharmonic, The Seattle Symphony, The Knights Orchestra, Saint Paul Chamber Orchestra, Elbphilharmonie, Apple Hill string quartet, Quatuor Voce, Brooklyn Rider, Cello Octet Amsterdam, Aizuri Quartet and Bob Wilson.
An advocate for new music, several concertos were dedicated to him by composers such as Kareem Roustom, Dia Succari, Dinuk Wijeratne, Zaid Jabri, Saad Haddad and Guss Janssen, in addition to a large number of chamber music works.
In addition to his own Arab-Jazz Quartet CityBand and his Hewar trio, he has also been playing with the Silkroad Ensemble since 2012, whose 2017 Grammy Award-winning album "Sing Me Home" features Kinan as a clarinetist and composer.
Kinan Azmeh is a graduate of New York's Juilliard School as a student of Charles Neidich, and of both the Damascus High institute of Music where he studied with Shukry Sahwki, Nicolay Viovanof and Anatoly Moratof, and Damascus University's School of Electrical Engineering. Kinan earned his doctorate degree in music from the City University of New York in 2013.
He is currently working on his first opera which is scheduled to premiere in Osnabruck, Germany in June 2022.